Cloud Connection Augmentation and Performance.
Keeping things moving along, with remote workers, and business done remotely.  Let's have a discussion and see what this telecommuting and remote worker technology can do for you.

The Problem.
The original, and still popular, option is a cloud onramp. This approach is time consuming, expensive, and requires significant networking expertise. Typically, enterprises order a private line from their office to an on-premises facility or a carrier's network, and from there cross-connect to the cloud provider's private connectivity offering (e.g., AWS Direct Connect).
SD-WAN is gaining traction, but depending on the scenario, there can be drawbacks. SD-WANs connect to the cloud over public internet connections, making them vulnerable to high latency, unexpected jitter, and packet loss. With public internet connections, enterprises face higher egress transfer costs compared to the egress fees public cloud providers charge for a private connection.
Multicloud Networking Platforms.
Multicloud networking platforms are the latest in cloud connectivity and are more cost- effective, provide faster implementations, maintenance is less expensive, and support a variety of connection types including IPsec VPN, mobile, and direct.
These platforms take advantage of the cloud providers' private connectivity offerings (e.g., AWS Direct Connect, Azure ExpressRoute), and enterprises benefit from lower egress costs and more predictable network performance.
When leveraging a multicloud networking platform with a layer 3 distributed multicloud router, enterprises design and deploy to a fully-meshed network.
A multicloud router simplifies configuration and deployment by assigning WAN network subnets, discovering autonomous system numbers, and automatically configuring BGP sessions.
Some multicloud networking platforms support access from on-premises networks via an IPsec VPN, allowing networks to be built in minutes, which is a significant advantage.
Multicloud networking platforms use intent-based networking to simplify the building of networks by mapping to business objectives (e.g., connect site A to cloud B), and then automatically orchestrates the necessary changes without the need for advanced networking skills.
Networks are often configured with overlapping IP address ranges. A multicloud router with Cloud Grade NAT functionality intelligently detects and resolves IP address conflicts to enable the interconnection of networks.
Along with lower costs to implement, the cost to maintain networks is lower. Multicloud networking platforms typically offer usage-based billing similar to the cloud providers. And in direct contrast to cloud on-ramps with fixed bandwidth, multicloud networking platforms allow users to increase/decrease bandwidth on-demand so enterprises pay for only the bandwidth needed.
What Does it Look Like?
Here's a look at what a multicloud setup looks like. Every network is different … let's have a conversation to help you find the best solution for your organization.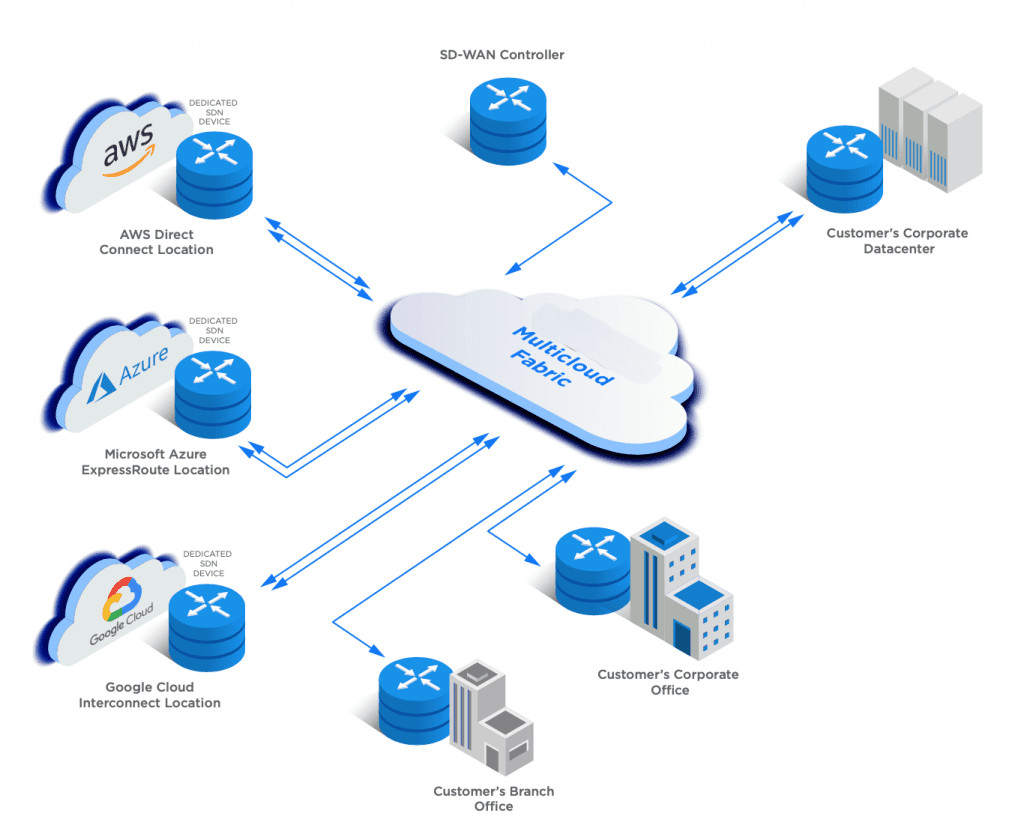 Cost Effective.
Provides Faster Implementations.
Easier to Maintain.
Cloud onramps and SD-WAN may not be enough for what you need. With multicloud, you get a modern, capable solution: 
Multicloud networking platforms are the latest in cloud connectivity
Connection types including IPsec VPN, mobile, and private line
Multicloud is more cost effective and provides faster implementations, and easier maintenance.

Private connectivity offerings from multicloud networking providers need to operate at layer 3 and require BGP peering
No Risk.
No Obligation.
When you allow us to quote, you are under no obligation. As your advocate, we only want you to secure the services that make sense. Already have a solution in place? Allow us to quote, and one of two things will happen: you'll confirm that you have a decent deal already, or better yet, we'll show you an even better solution that fits your needs and/or budget. Either way, you win!